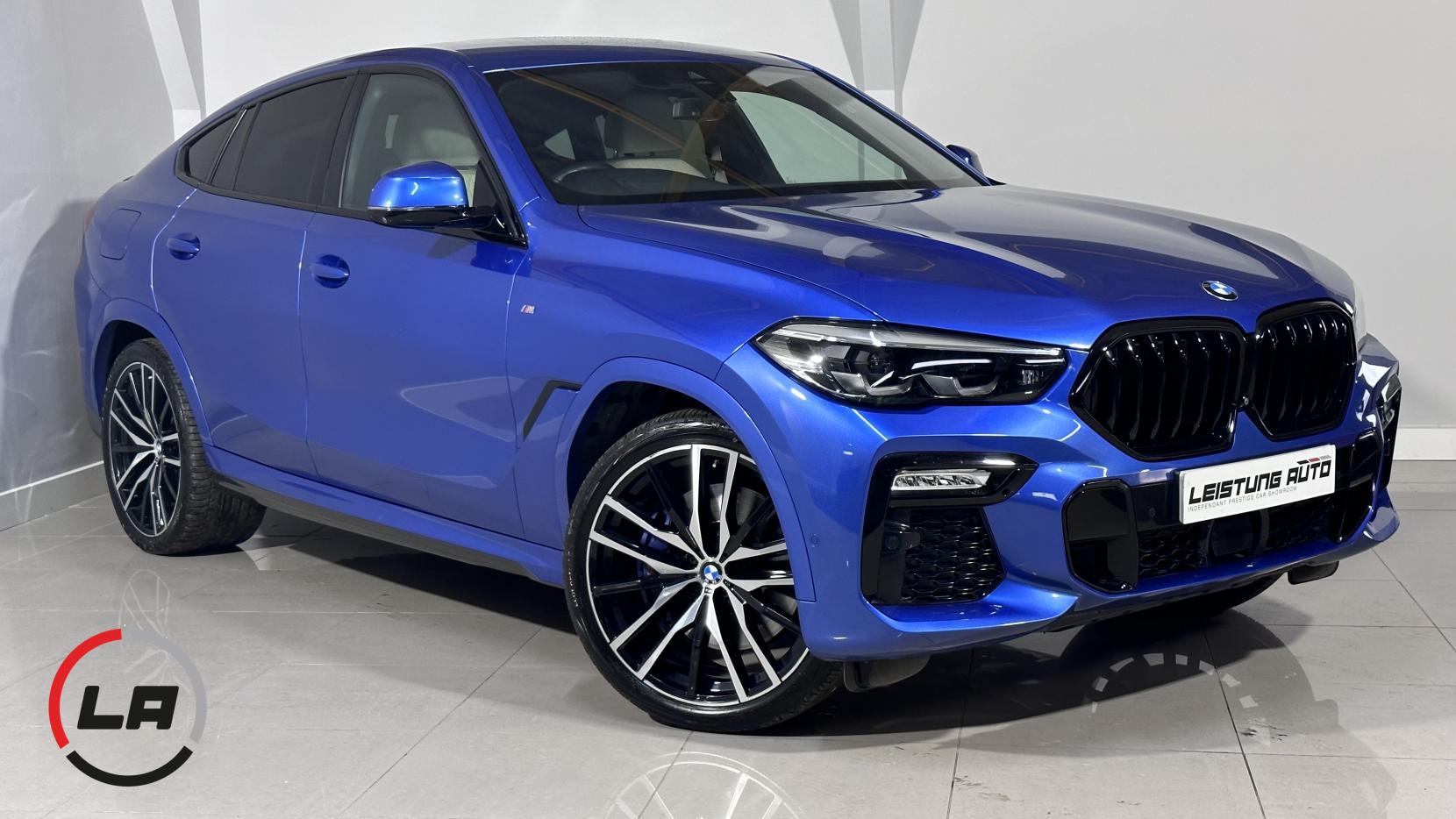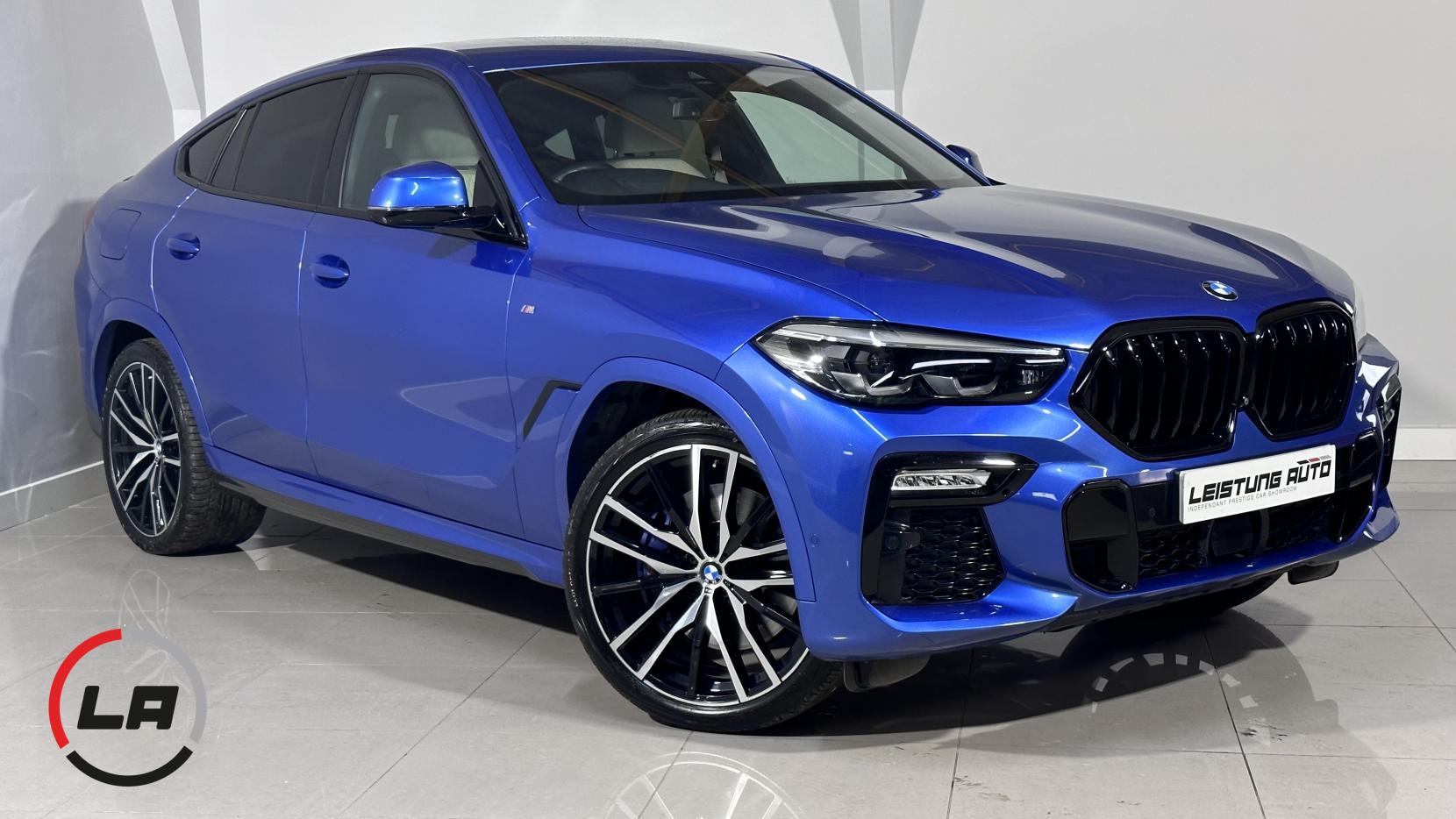 Year
2020
Mileage
38,760 miles
Fuel Type
Diesel
Transmission
Automatic
Drivetrain
Four Wheel Drive
Engine Size
3.0 litres
Engine Power
261 bhp
Engine Torque
457 lbs/ft
0 to 62mph
6.5 seconds
Top Speed
143 mph
MPG
35.8 mpg
CO2 Emissions
161 g/km
Vehicle has been sold!
If you are interested in this vehicle please contact us, we may already have similar vehicles being prepared for sale or we may be able to source a similar vehicle to suit your exact requirements.
Request Callback!
Description
Leistung Auto are pleased to offer this stunning BMW X6 3.0 30d M Sport, a stunning SUV that combines power, style, and luxury. With its sleek design and impressive performance, this vehicle is sure to turn heads wherever you go. And with over £12,000 worth of optional extras, you'll enjoy an enhanced driving experience like no other.
The Technology Package takes your driving to the next level with advanced features such as a Head-Up Display, BMW Gesture Control, and a Harman Kardon Surround Sound System. Stay connected and entertained on the road while enjoying the convenience of hands-free control and crystal-clear audio.
For ultimate comfort, the Comfort Package offers a range of luxurious features. Sink into the sumptuous leather seats and enjoy the convenience of heated seats, electric seat adjustment with memory function, and a heated steering wheel. Whether you're embarking on a long journey or simply running errands, this package ensures a comfortable and enjoyable ride every time.
With Air Conditioning - Automatic with Four Zone Control, you and your passengers can individually adjust the temperature to suit your preferences. No more arguments over the perfect climate inside the car – everyone can enjoy their own personalized comfort.
The Instrument Panel wrapped in leather adds a touch of elegance to the interior. Not only does it look stylish, but it also enhances the overall feel of luxury and sophistication inside the cabin.
And let's not forget the eye-catching Riverside Blue metallic colour that sets this BMW X6 apart from the rest. With its vibrant hue, this SUV exudes confidence and style, making a statement wherever it goes.
Now, let's talk about the impressive features of this vehicle. With an acceleration of just 6.5 seconds, you'll experience a thrilling ride every time you hit the gas pedal. The powerful 3.0-litre engine delivers an impressive 261 bhp and 457 lbs/ft of torque, ensuring a dynamic and exhilarating driving experience. With a top speed of 143 mph, you'll have no trouble cruising on the open road.
This 2020 BMW X6 3.0 30d M Sport has covered 38,760 miles and comes with five seats and five doors, providing ample space for both passengers and cargo. As an SUV, it offers versatility and practicality without compromising on style.
With its fuel-efficient diesel engine and a fuel consumption of 35.8 mpg, this BMW X6 is not only powerful but also economical. Plus, it is ULEZ compliant, meaning you can drive through London's Ultra Low Emission Zone without any worries.
Why would you love this vehicle? Because it combines the best of both worlds – power and luxury. With its impressive performance, stylish design, and a range of optional extras, this BMW X6 3.0 30d M Sport offers an unparalleled driving experience that is sure to leave you wanting more.