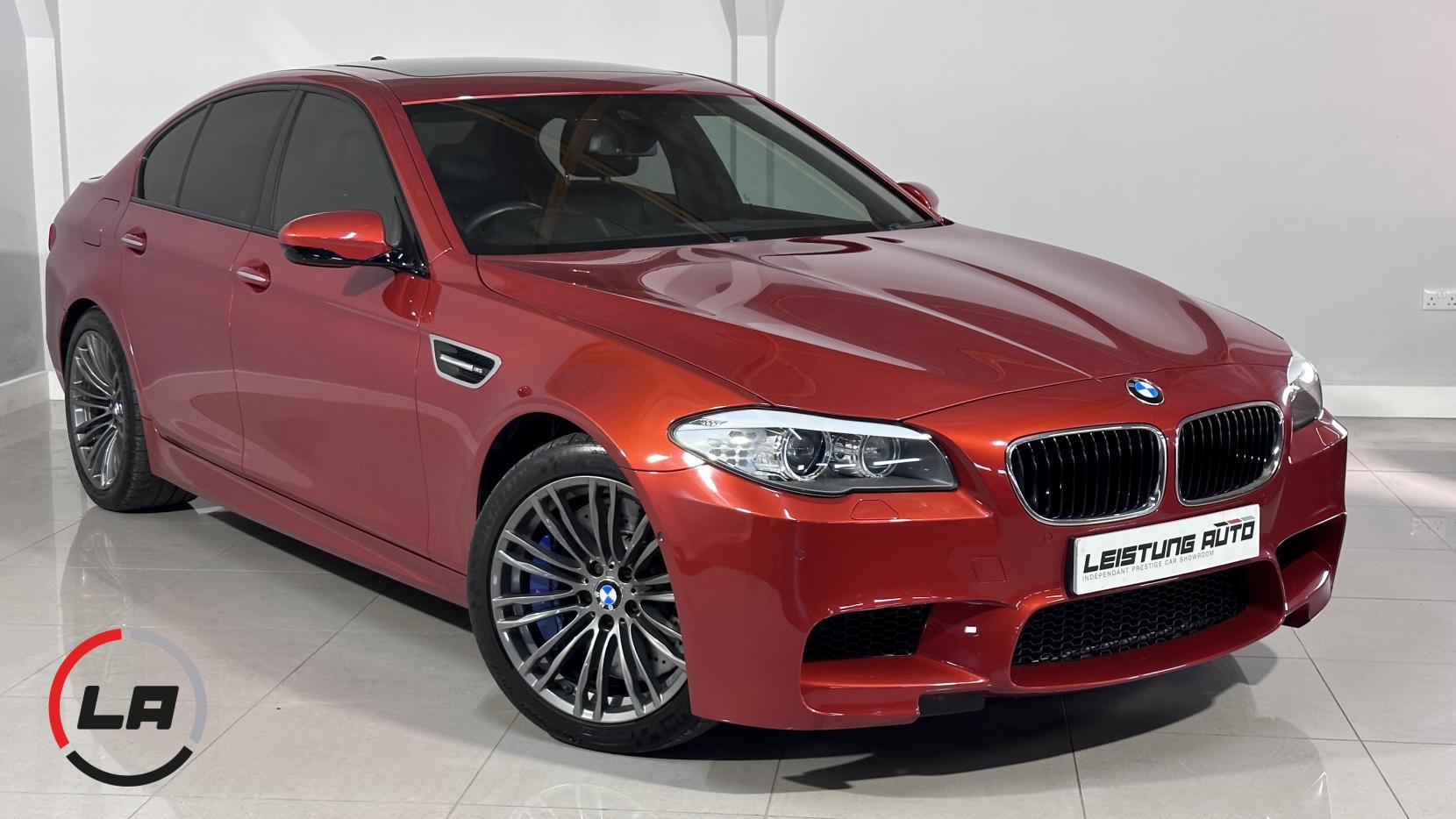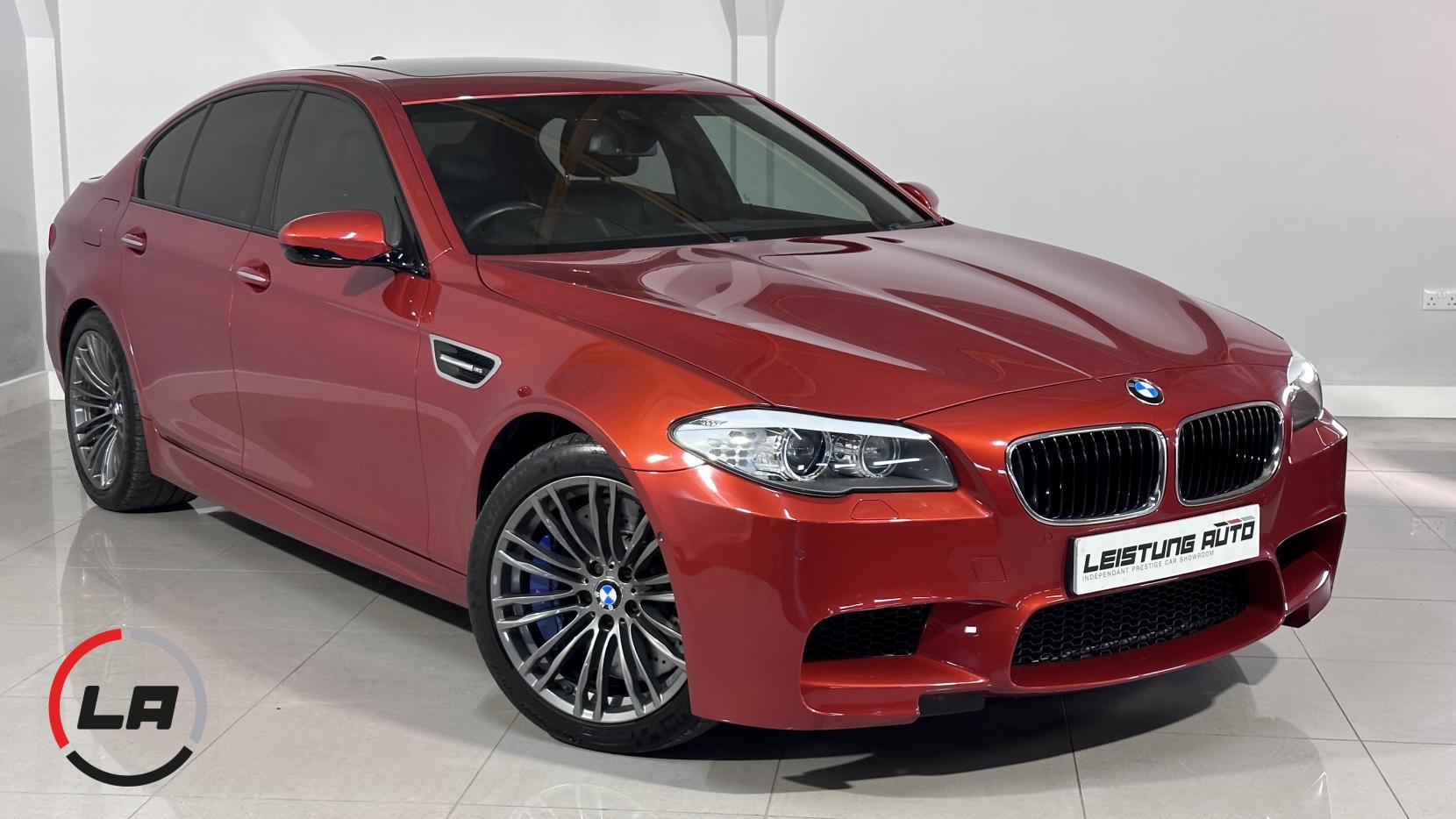 Year
2013
Mileage
64,558 miles
Fuel Type
Petrol
Transmission
Automatic
Drivetrain
Rear Wheel Drive
Engine Size
4.4 litres
Engine Power
552 bhp
Engine Torque
501 lbs/ft
0 to 62mph
4.3 seconds
Top Speed
155 mph
MPG
28.5 mpg
CO2 Emissions
232 g/km
Description
Leistung Auto are proud to offer this stunning BMW M5 4.4 V8 Saloon 4dr Petrol a true powerhouse that will ignite your passion for driving. With over £3,000 worth of optional extras, this exceptional vehicle is ready to take your driving experience to the next level. Don't miss out on the opportunity to own this stunning machine!
One of the optional extras included in this BMW M5 is the Surround-View feature. With this advanced technology, you'll have a 360-degree view of your surroundings, making parking and maneuvering in tight spaces a breeze. Say goodbye to blind spots and hello to enhanced safety and convenience.
The Sakhir Orange exterior of this M5 is a head-turner. This vibrant and eye-catching colour will make a bold statement wherever you go. Stand out from the crowd and showcase your unique style with this striking paintwork.
The Reversing Assist Camera is another valuable optional extra that comes with this BMW M5. Say goodbye to the stress of parking and reversing with confidence. The camera provides a clear view of what's behind you, ensuring you can navigate even the trickiest of parking spaces with ease.
Stay connected on the go with the Mobile Application Preparation feature. This optional extra allows you to seamlessly integrate your smartphone with your BMW M5, giving you access to a range of useful features and functions. From navigation to music streaming, you'll have everything you need at your fingertips.
Step inside the cabin and experience luxury like never before with the Extended Merino Leather in Black. This optional extra elevates the interior to new heights of sophistication and comfort. The premium leather upholstery adds a touch of elegance, while the extended design ensures maximum comfort for both driver and passengers.
Now, let's talk about the impressive features that come as standard with this BMW M5. With an acceleration of just 4.3 seconds, this car is a true speed demon. The 4.4-litre engine delivers a staggering 552 bhp and 501 lbs/ft of torque, giving you the power you need to conquer the road. With a top speed of 155 mph, you'll experience exhilaration like never before.
This 2013 BMW M5 has covered 64,558 miles and is in excellent condition. With seating for five and four doors, it offers practicality without compromising on performance. The sleek saloon body style adds a touch of elegance, while the Sakhir Orange colour adds a bold and sporty flair.
This BMW M5 is powered by petrol and features an automatic transmission. With rear-wheel drive and a fuel consumption of 28.5 mpg, it strikes the perfect balance between power and efficiency. Plus, it is ULEZ compliant, ensuring you can drive with peace of mind in low emission zones.
Don't miss out on the opportunity to own this exceptional BMW M5. With its powerful performance, luxurious features, and stunning design, it's a car that will make every journey an unforgettable experience. Contact us today to arrange a test drive and make this incredible machine yours.